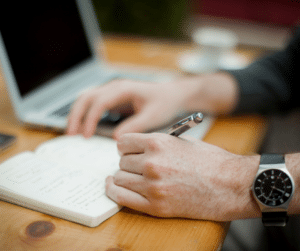 By T.E. Cunnigham
Sometimes the inspiration well runs dry. We have all had that horrible feeling. That blank word document is staring back at you from your laptop waiting for you to turn it into compelling ad copy that moves the needle for your client – without using old, tired clichés like I just did!
Good advertising reaches out, grabs you and doesn't let go. In a brief amount of words, it's the advertiser's goal to make sure you realize you MUST have their product or service.
We've discussed have good, clear marketing messaging, but writing good copy for ads is an art unto itself!
So how do you make sure that you are putting the best possible copy out there for your client? The task can seem daunting, especially online where your characters can be so limited. Here are a few tips that we recommend:
Know your audience. If you don't know whom you are writing to, figure that out before you write the first word of your ad
Attention Span Alert! Tell them one thing not several, because your reader is only going to give you so much time
Strike an emotional chord with your reader. Tell them how you will help them fix their problem or make their life better, and do so succinctly
Here is a piece of advice that stuck with me from my eighth-grade teacher, "Be vivid!" His advice was great when reviewing the works of William Shakespeare and is still spot on for writing good ad copy
Here is a tip that is almost as overused as the word synergy is in our industry, but it's The focus should be on the benefit to the reader and not a listing of the features of the service or product being offered. Tell them why they can't miss out on your service or product
Craft an eye-catching headline: ask a question, use humor or empathy, use a promise or guarantee in the headline. There are several online tools you can use to evaluate your headline. We use Advanced Marketing Institute and CoSchedule
Use relevant keywords in your copy. Some of you are probably scratching your head and saying "of course," but you'd be surprised how many SMB owners try AdWords on their own and throw good money away on irrelevant copy
Make sure your offer is clear and that you have an excellent call to action; if it's going to the website – make sure it's a very relevant landing page with the offer well outlined – not your home page. If you want them to call you – add the number with hyperlink
Here's a crazy thought: Use correct grammar, spelling and Yes, we subscribe to the serial comma school of thought in which you do not put a comma before your conjunction
If one more of my college professors advanced the KISS theory on the chalkboard (uh, yes it was that long ago), I might have thrown fisticuffs. Now I realize the "Keep it simple, Stupid" theory is a good one. Do not use overly large or obscure words.
A picture is worth a thousand words. Less is more. Go with the graphic. We have become a lazy society in our expectation of how news and information are delivered to us – we want it fast and we want it now. So make sure you include photos or graphics where you can to help tell your story – quickly